Co-organized with Chloe Nagraj, April, 2019.
Landscape Perspectives: Equity in + by Design aims to continue the conversation started in the 2018 panel, Landscape Perspectives for Future Publics. The discussion will focus on inclusivity and action in landscape architecture, academia, and the built environment. As designers, we seek to create better social spaces, despite the fact that institutionalized forms of discrimination are often present in the places where we learn and work. This panel brings this schism to the forefront by providing a platform for those who are actively addressing socioeconomic inequality both in the profession and on the ground. Presenters will share work they are doing on these fronts, followed by a panel discussion joined by UVA faculty. We hope the conversation will challenge and broaden ideas at the intersection of advocacy and design in practice and academia.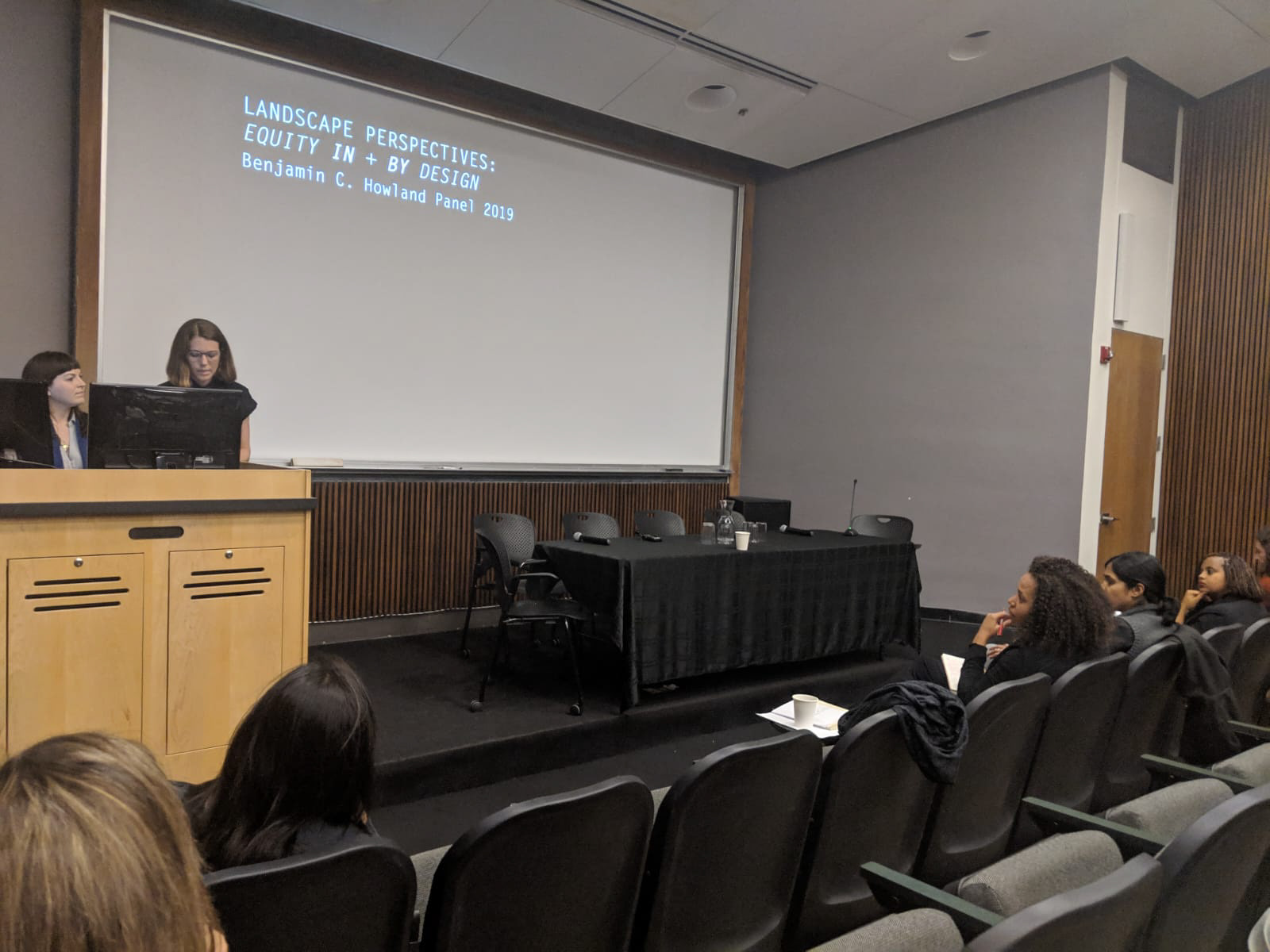 GINA FORD, PLA, FASLA
Principal and Co-Founder of Agency Landscape + Planning
Gina Ford is a landscape architect, co-founder and principal of Agency Landscape + Planning. Underpinning her two decades of practice are a commitment to the design and planning of public places and the perpetuation of the value of landscape architecture via thought leadership, teaching, writing and lecturing.  Her work has received awards from the American Society of Landscape Architects, the American Planning Association and the American Institute of Architects, among others. She is on the board of directors for the Cultural Landscape Foundation and was the recipient of the Harvard Graduate School of Design's Charles Eliot Traveling Fellowship and Wellesley College's Shaw Fellowship.

MAURA ROCKCASTLE, ASLA PLA  
Principal and Co-founder, Ten x Ten
Maura has extensive experience working on large scale public projects, managing and navigating multi-headed stakeholder groups and complex public processes.  With a background in printmaking and sculpture, Maura balances a rigorous approach to project management and design quality with a conceptual sensibility rooted in process.  
Maura moved home to Minneapolis after eight years in New York City working as an associate for James Corner Field Operations and as Landscape Discipline Leader for Snøhetta. Upon her return to the Twin Cities, she established the Minneapolis office for Tom Leader Studio and managed the RiverFirst Priority Projects.  Her professional experience is focused on cultural, institutional, and complex public realm projects, including the High Line Section 1, Shelby Farms Park Masterplan and Times Square Reconstruction.  Many of these projects have received national awards for design excellence, preservation, and innovation.  Maura holds a BFA in sculpture and printmaking from Cornell University and an MLA from the University of Pennsylvania, where she won the Ian McHarg Prize for Excellence. She has taught design studios at Harvard GSD, Yale School of Architecture, University of Pennsylvania School of Design and the University of Minnesota College of Design as the 2013-2014 Cleveland Fellow.

SANJUKTA SEN
Senior Associate, Field Operations
Sanjukta is a landscape and architectural designer at James Corner Field Operations. She is currently leading the design and project team for Gansevoort Peninsula in Hudson River Park. Sanjukta is also leading the design and construction of Greenpoint Landing and Metrotech Commons, both of which are in Brooklyn, New York. Previously, Sanjukta was the project manager and lead designer for Domino Park in Brooklyn, Riverfront Park in Newark, and Central Green at the Navy Yards in Philadelphia. Prior to joining Field Operations, Sanjukta practiced as an architect with S. Ghosh & Associates in New Delhi, working on several large scale development projects including the 2,000-acre JSPL Township in Orissa, which involved designing resettlement colonies for displaced people. Sanjukta was one of the 2018 LAF Fellows for Innovation and Leadership, studying waterfront zoning and resiliency. She earned her Master of Landscape Architecture degree from the University of Pennsylvania, and a Bachelor of Architecture degree from the School of Planning and Architecture in New Delhi, India. She is fluent in Hindi, Bengali and English.

JHANÉA D. WILLIAMS
Senior Associate, MASS.
Jhanéa is currently a Senior Associate at MASS., located in Boston. She received her B.S. in Architecture from Northeastern University and taught for two years at the Boston Architectural College and then pursued her M. Arch at the University of Pennsylvania. After graduation, she returned to her home city of Boston to continue curating and co-hosting her monthly open mic, 'if you can Feel it, you can Speak it' Open Mic Movement, and began working at Sasaki Associates, Inc. As a spoken word artist and event organizer for over 10 years, Jhanéa exclaims that there is pure art is speaking your own truth, and is dedicated to creating spaces for artists, particularly those that are of the LGTBQIA communities of color. As a designer, she urges that design and the built environment are vehicles for equity, justice and social change. Her primary focus through her work is to make design accessible and beneficial to the masses, while fully exploring the impact that the built environment has on our pysche.

SARA ZEWDE
Founding Principal, Studio Zewde
Sara Zewde is a founding principal of Studio Zewde, a design firm practicing at the intersection of landscape architecture, urbanism, and public art. The studio is devoted to designing enduring places where people belong. Sara holds a master's of landscape architecture from the Harvard University Graduate School of Design, a master's of city planning from MIT, and a BA in sociology and statistics from Boston University. In parallel with practice, Sara regularly writes, lectures, and exhibits her work and is the recipient of a number of awards, including the Silberberg Memorial Award for Urban Design and the Hebbert Award for Contribution to the Department of Urban Studies and Planning at MIT. Sara was named the 2014 National Olmsted Scholar by the Landscape Architecture Foundation, a 2016 Artist-in-Residence at the Robert Rauschenberg Foundation, and in 2018, was named to the National Trust for Historic Preservation's inaugural "40 Under 40: People Saving Places" list. Her work has been exhibited at the 2016 and 2018 Venice Biennale, in the Brazilian and U.S national pavilions. 

LEENA CHO (panel moderator)
Assistant Professor, Landscape Architecture UVA School of Architecture
Leena Cho is an assistant professor of landscape architecture at the University of Virginia, co-director of Arctic Design Group (ADG), and co-principal of award-winning design practice Kutonotuk and TempAgency. Leena's research examines various conceptions, representations and instrumentations of weather and climate in Arctic cities, and uses both physical and conceptual phenomena of climate and climate change as a forensic tool for design and its process. Her work has been funded by the National Science Foundation, Environmental Resilience Institute, Center for Global Inquiry and Innovation, and Jefferson Trust, among others, and has been facilitated by numerous national and international organizations including the U.S. Department of State and the World Bank. In addition to her courses on landscape technology and extreme environments, Leena teaches both foundation and advanced research studios that foreground material, ecological and cultural linkages, expressed in landscape medium and assembly, design methodology and experiments.